Pamper Parties Oxfordshire
The Ultimate Girls Party

Facials, Face Mask and Nails Party



The pampering party

you

will love!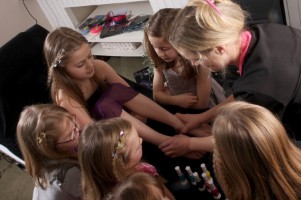 Whilst enjoying some really 'grown up' pampering learn how to give Mum or Dad a luxurious facial!!
Includes:

2 hours of non-stop party fun and pampering!
party invitations
permission forms
party bags with pampering goodies
achievement certificate for each party guest

keepsake memory book for the birthday child!



The birthday girl or boy is treated to a luxurious mini facial on my special beautician couch and has a lovely face mask applied. There are lots of giggles at this stage whilst the children have a go at treating each other using their mini kits I've provided. After the fun of facials and face masks the party moves onto nails and luxury hand massages. Whilst the children paint each others toes, I treat them one by one to a lovely professional nail polish and finally a nail art flower.
You will not regret booking this party!
"Fantastic value for money and the girls had a brilliant time! Karen has a very welcoming, kind nature and made the party fun, involving the girls in all activities, tailoring the party to their ages, giving appropriate advice on beauty and make up when asked! And, to top it all off, I got to relax while Karen kept them busy...well done!
Karen, Abingdon
"I had this party for my 11 yr old daughter and a group of her friends. Booking was easy and communication with Karen right up to the day was very good. The party was very interactive and enjoyed immensly by the girls. Karen is a wonderful party host and came prepared with everything, which meant I could leave them all in her hands and I could sit down for 2 hrs !! The girls were thrilled with their party bags with all the little pots of lotions and nail polish etc, again all provided by Karen. All in all this was a great experience for the girls and fantastic value for money. The best part is that they cant wait to practise what they have learnt on you...so mum finishes of the day with a facial...perfect!"
Tracey, Bicester
To make a party booking please call (01993) 891218 or click
here
Providing pamper parties in: Abingdon, Banbury, Bicester, Carterton, Didcot, Kidlington, Oxford, Witney and surrounding areas
The Ultimate Beauty Lesson Party

Pamper Parties Oxfordshire, Witney, Oxfordshire (01993) 891218

©This website is copyrighted under law. Wording, images and concepts remain the property of the owner.