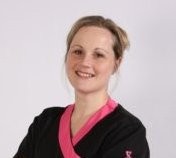 Hello!
My name is Karen and I live in Oxfordshire with my husband, 3 children, 2 cats and a puppy. We have lived in the area for over 20 years and love it here!
I qualified as a teacher in 1997 and taught in a Primary School for 10 years. During this time I also trained as a beautician as I had always been interested in nails and pampering, and believed this to be an ideal job to fit in with family life.

After having my third little one, I decided to focus on the beautician role, and started offering Pamper Parties as part of the 'menu'. After my first children's Pamper Party, I just knew it was the job for me! I absolutely love carrying out the children's parties as I get to use both skills- teacher and beautician.
My aim is to make your child's party fun and memorable whilst being stress-free for you. As a Mum myself I know how the thought of putting on a party can raise your blood pressure slightly, so I want to take the worry away so you can enjoy it too!

I offer a personal service at every step. I do all of the work myself so feel very passionate that the parties should be the best they can be. I am available to chat to if you want to discuss options and it is me that will actually come and carry out the party. If you are wondering whether this is the party for you and your child, why not give me a call (01993) 891218 or email by clicking here and we can tailor the party to your ideal!

Girls Parties in: Abingdon, Banbury, Bicester, Carterton, Chipping Norton, Didcot, Kidlington, Oxford, Witney and beyond!
Hair, Make-Up and Nails Party Facials, Face Mask and Nails Party
The Ultimate Beauty Lesson Party


Pamper Parties Oxfordshire, Witney, Oxfordshire (01993) 891218